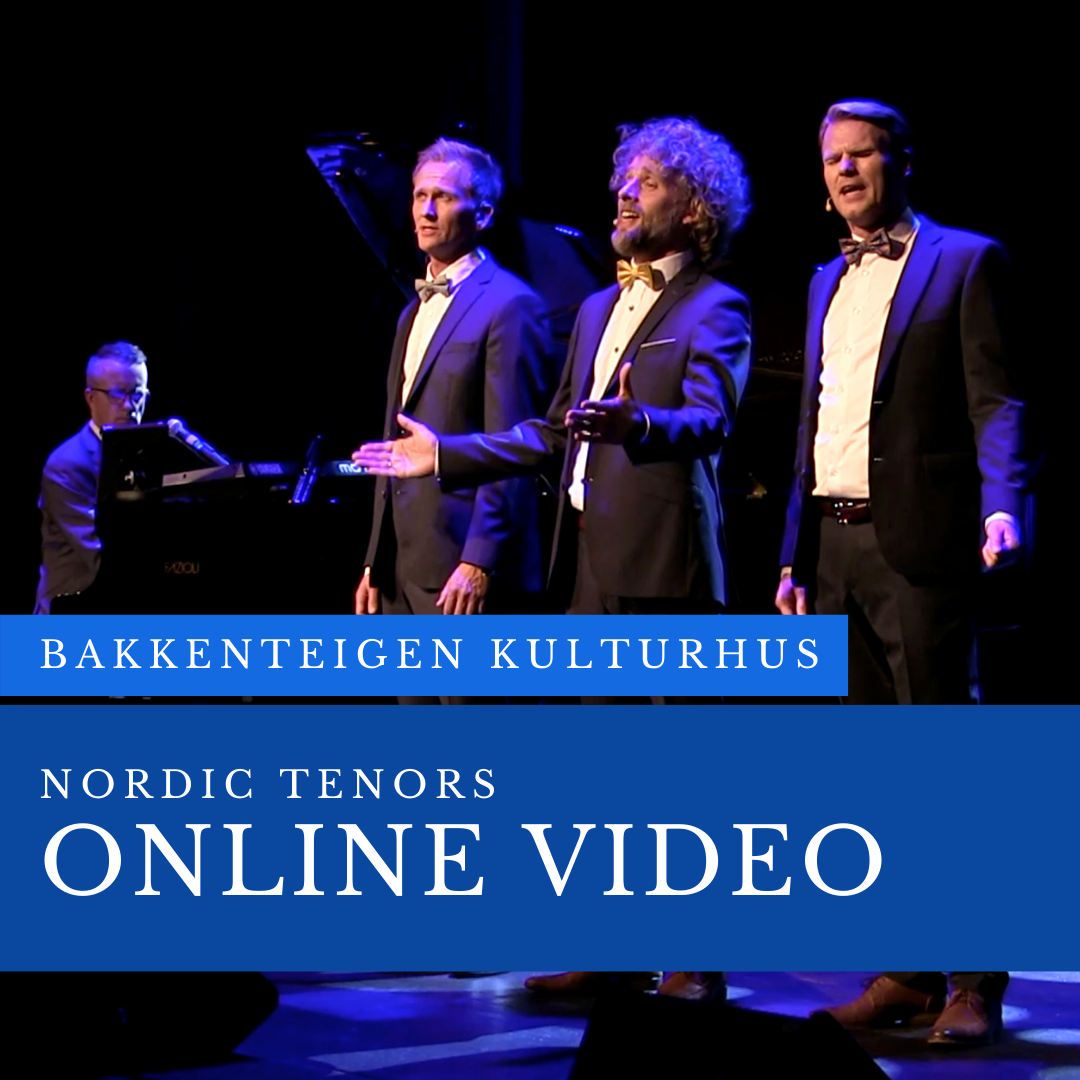 Online video: Concert from Bakkenteigen Concert Hall in Norway
Vare nr. See the video here: https://drive.google.com/file/d/1qpXNo-J_zdH_KqL8_GS5u-F0q1WfjM1v/view?usp=sharing
Produktdetaljer
You get access to an entire concert with Nordic Tenors.
"Viva la Musica" is a Spanish phrase and means "long live the music". Music has been entertainment and therapy for us humans for thousands of years. Nordic Tenors bursting with song and musical delight, declaring their love for the beautiful classical gems of the opera world and to the musical highlights of the pop and show genre. Their lovely voices have given many goosebumps and unforgettable moments. The charming tenors have won the hearts of the audience as much for their humorous touches as for their great voices. Here you can therefore look forward to both great musical experiences and wonderful humor that will give the laughing muscles good trim, right home in the living room!
Nordic Tenors consists of the tenors Roald Haarr, Sveinung Hølmebakk and Jan-Tore Saltnes. They bring along their eminent pianist Øystein Lund Olafsen. The group has previously won the Komi Prize, been royal toastmasters, opened the new opera in Oslo and won the hearts of the public across the country. The performance is packed with musical highlights and a lot of humor.
You can watch the video online on your mobile, tablet or computer. If you have Apple TV, Smart TV or the like, you can also watch the concert on TV. After confirming your purchase, you will receive an email with a link to the concert. Here are the songs you hear:
Brindisi (La Traviata) // The Prayer // Hallelujah // Kufsteinerlied (Holmestrand jodel) // Jahn Teigen-medley // So shimmering was never the sea // The tower of Tosca (E lucevan le stelle) // Let it be me / / Per Spelmann // Torna a surriento // Lotta's song // My smaller green cactus // You raise me up // Viva la musica // Elvis Medley // Amazing Grace // Time to say goodbye // Jodlermelodi // Nessun Dorma
Du får tilgang til en hel konsert med Nordic Tenors.
"Viva la Musica» er et spansk uttrykk, og betyr "lenge leve musikken». Musikk har vært underholdning og terapi for oss mennesker gjennom tusenvis av år. Nordic Tenors sprudler av sang og musikkglede, og erklærer sin kjærlighet til de vakre klassiske perlene fra operaens verden og til musikalske høydepunkter fra pop- og visesjangeren. Deres nydelige stemmer har gitt mange gåsehud og uforglemmelige øyeblikk. De sjarmerende tenorene har vunnet publikums hjerter like mye for sine humoristiske innslag som for sine flotte stemmer. Her kan dere derfor glede dere til både store musikalske opplevelser og herlige humor som vil gi lattermusklene god trim, rett hjem i stua!

Nordic Tenors består av tenorene Roald Haarr, Sveinung Hølmebakk og Jan-Tore Saltnes. De har med seg sin eminente pianist Øystein Lund Olafsen. Gruppen har tidligere vunnet Komiprisen, vært kongelige toastmastere, åpnet den nye operaen i Oslo og har vunnet publikums hjerter over hele landet. Forestillingen er spekket med musikalske høydepunkter og mye humor.

Videoen ser du online på mobil, nettbrett eller datamaskin. Dersom du har Apple TV, Smart TV e.l., kan du også se konserten på TV. Etter at du har bekreftet kjøpet, får du en epost med en link til konserten. Her er sangene du får høre:
Brindisi (La Traviata) // The Prayer // Hallelujah // Kufsteinerlied (Holmestrand jodel) // Jahn Teigen-medley // Så skimrande var aldrig havet // Tårnarien fra Tosca (E lucevan le stelle) // Let it be me // Per Spelmann // Torna a surriento // Lottas sång // Mein kleiner grüner kaktus // You raise me up // Viva la musica // Elvis Medley // Amazing Grace // Time to say goodbye // Jodlermelodi // Nessun Dorma
Lagre dette produktet til senere